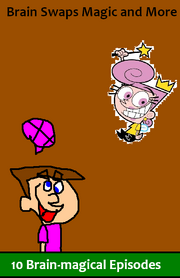 Brain Swaps, Magic and More
is a fanmade DVD made by
User:CAPRAFILMS
. It features 3 fanmade episodes and 7 TV series episodes.
Episodes on this DVD
| | | | | |
| --- | --- | --- | --- | --- |
| # | Title | Brief Summary | Airdate | Title Card |
| S517 | Foop and Poof | Poof and Foop swap bodies (all Cosmo's fault) and Foop (in Poof's body) has to grant wishes to Timmy. | | |
| S910 | Hocus Pocus | Timmy tries out making magic stuff at home by doing tricks. | | |
| 113A | Manic Mom-Day | Wanda swaps Timmy and his mother's brains for a day to make him realize a mother's life isn't easy. | September 18, 2010 | |
| S915 | Fairly Odd Jonas | The Turners go to the Jonas Brothers concert and they think it's wonderful. They also go to the store to buy there music video on the way home. | | |
| 5B | Dog's Day Afternoon | After having to put up with Vicky on an especially bad day, and after seeing how she treats hew own dog, Doidle, better than him, Timmy wishes he and the dog exchanged minds. At first, Timmy likes the wish, but he finds out he has to go to a torturing veterinarian for a painful visit, he wants to be a boy again. But since he's a dog, he can't voice his wish, and Timmy and Doidle must find a way to get back to normal. | April 27, 2001 | |
| 60B | You Doo | Timmy wishes for "You Doo Dolls", magical doll likenesses of Timmy's teachers and classmates that can control whoever they depict, but he runs into problems when Tootie finds a You Doo doll of him that Cosmo erroneously left lying around, and things get worse when Francis steals it from her! | February 16, 2005 | |
| 68A | The Masked Magician | The neighborhood is having a block party, and all of the Turner's child-less neighbors are putting on better looking shows than the horrible magic act that Mr. Bickles is putting on. In order to lure everyone away from the Dinklebergs' front lawn Britney Britney concert, Timmy uses Cosmo and Wanda to put on a real magic show. After saving Trixie's life, Timmy's new masked magician identity becomes a superhero, but according to the Crimson Chin, every superhero must have a super villain to oppose them, and Timmy's is Mr. Bickles, who is none to happy about Timmy showing up his act! | February 18, 2005 | |
| 26B | Movie Magic | Timmy attempts to create the perfect movie in order to win the Dimmy Award and impress Trixie, but the movie he makes with his friends is a disaster. He soon finds the way to make it perfect using his fairy godparents, but he forced to choose between his friends and Trixie the night before his premiere. | January 27, 2003 | |
| 44B | Mr Right | Tired of always being wrong, Timmy wishes that whatever he said was always right. Unfortunately when he denies the existence of his fairy godparents to Mr. Crocker, Cosmo and Wanda disappear completely, and the only way to bring them back is to tell someone they exist! | March 19, 2004 | |
| 44A | Baby Face | After Timmy wishes Vicky away yet again, Mr. and Mrs. Turner want him to stay at Flappy Bob's Learnatorium while they go to the beach. To get away from Francis and the bullies at the day care center, Timmy wishes that he was a baby. However, since babies can't talk, he soon realizes he can't unwish the wish! | March 19, 2004 | |
Special Feautres
Hocus Pocus by CAPRAFILMS
Fairly Odd Jonas by CAPRAFILMS
Yoo Doo Storyborad
Baby Face Storyborad
Ad blocker interference detected!
Wikia is a free-to-use site that makes money from advertising. We have a modified experience for viewers using ad blockers

Wikia is not accessible if you've made further modifications. Remove the custom ad blocker rule(s) and the page will load as expected.