Chip Off The Old Shelf is the 19th fanmade episode of The Fairly OddParents from Season 9.
Characters
Plot
Timmy wishes to be the best singer in the world, but when the fame and fortune comes, Timmy's life is too perfect, meaning he's willing to lose Cosmo and Wanda! What will he do?
Synopsis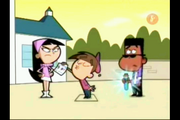 The episode starts out with Timmy at Trixie's birthday party. Then Trixie's dad announces that we all sing the birthday song for Trixie. Everyone sings, and Timmy sings horribly. Then Timmy gives Trixie a card and asks for a date. Then Trixie says "No! You're a horrible singer!" and ejects him.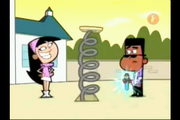 Ad blocker interference detected!
Wikia is a free-to-use site that makes money from advertising. We have a modified experience for viewers using ad blockers

Wikia is not accessible if you've made further modifications. Remove the custom ad blocker rule(s) and the page will load as expected.