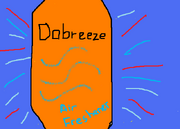 Dabreeze Air Freshener
is the air freshener seen in the Fairly OddStarfish episode,
Pineapple Scented
.
Good Uses
Freshening things, all except for pineapple, which would just melt. (it does not work in the Fairy Council witch melted as of Patrick's Secret Wish)
Trivia
This is a parody of Febreze.
Ad blocker interference detected!
Wikia is a free-to-use site that makes money from advertising. We have a modified experience for viewers using ad blockers

Wikia is not accessible if you've made further modifications. Remove the custom ad blocker rule(s) and the page will load as expected.