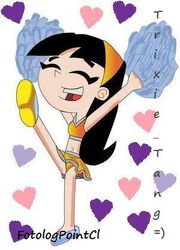 Go And Cheer is a fanmade episode of The Fairly OddParents.
Characters
Timmy Turner
Cosmo
Wanda
Poof
Tootie
Trixie Tang
Veronica Star
Crocker
Mrs Turner
Mr Turner
Molly
Tad And Chad
Remy (Cameo)
Jorgan (Cameo) Dancing
Plot
Trixie joins the cheer leader team and Timmy,Chester,And AJ Spy on her but the foot ball players really is Mal Timmy and the antil faries trying to get Trixie. Can Timmy tell trixie that the foot ball team is not really a football team?
Ad blocker interference detected!
Wikia is a free-to-use site that makes money from advertising. We have a modified experience for viewers using ad blockers

Wikia is not accessible if you've made further modifications. Remove the custom ad blocker rule(s) and the page will load as expected.