Krabby Patties are food seen in the spin-off, Fairly OddStarfish.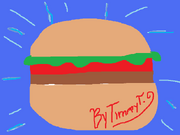 Taste
A Krabby Patty's tastes like no other patty, it's the greatest patty under the sea.
Versions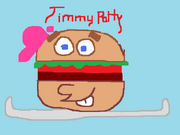 In the episode
Timmy Patty
, Timmy made his own versions called a Timmy Patty. It's as good as a Krabby Patty but has a tint of spice and cooked for one minute longer than the average time.
In Sandy Turner, when Sandy and Timmy were at Goo Lagoon, Timmy made a Sandy Patty, a patty made entirely of sand.
Ad blocker interference detected!
Wikia is a free-to-use site that makes money from advertising. We have a modified experience for viewers using ad blockers

Wikia is not accessible if you've made further modifications. Remove the custom ad blocker rule(s) and the page will load as expected.