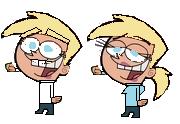 Jared and Janet Griffin are twin siblings who attend Dimmsdale Elementary. Janet is the older twin by 10 minutes
The Griffin Twins

Gender

Male (Jared)
Female (Janet)

Age

10

Birthday

December 5th

Homeworld

Dimmmsdale, CA

Residence

Upper Dimmsdale

Family

Francessca Griffin

Interests

money, chocolate, fame, power

Debut Appearence

Final Appearence

No information

voiced by

Tara Strong
Appearence
Jared wears a white long sleeved t-shirt with blue pants.
Jared has Dirty blonde hair
Janet wears a blue customized sweater
and being Jared's identical twin sister, Janet also has dirty blonde hair
Personality
Jared tends to be obsessive, clueless, and wondering
Janet tends to be volatile, impulsive, hotheaded, and eccentric (crazy)
Appearences
Ad blocker interference detected!
Wikia is a free-to-use site that makes money from advertising. We have a modified experience for viewers using ad blockers

Wikia is not accessible if you've made further modifications. Remove the custom ad blocker rule(s) and the page will load as expected.