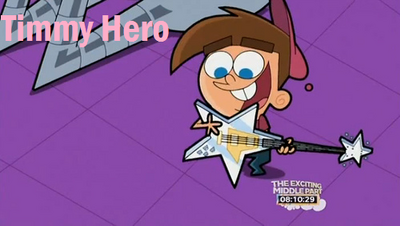 &nbsp
Timmy Hero is the 1st and only episode where Cosmo and Wanda are gone. After Timmy's fairys are gone he goes and finds a hobby where he and his friends (and enemys) can play on. Timmy finds a game called Timmy Hero (Priority of Guitar Hero) and finds out that his friends allready play Timmy Hero and they make a storyline to the game. A.J is the 1st boss of Timmy Hero and to win Timmy got 99% or more on the song Not Ready to Die. 2nd boss is Francis and Timmy got 90% on Raining Blood. The 3rd and final boss is Trixie Tang and Timmy got 100% on Through The Fire and Flames. Timmy finds out at the end that Trixie Tang was the best Timmy Hero player and Timmy had to get 100% on the rest of the songs to get a kiss from Trixie.
Appearences[1]
Timmy Turner
A.J
Francis
Trixie Tang
Ad blocker interference detected!
Wikia is a free-to-use site that makes money from advertising. We have a modified experience for viewers using ad blockers

Wikia is not accessible if you've made further modifications. Remove the custom ad blocker rule(s) and the page will load as expected.