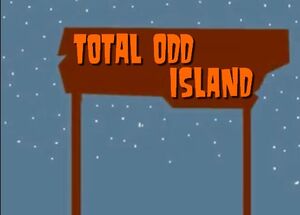 thumb|320px|right|The series opening
Total ODD Island is a fan made series that follows The Fairly OddParents living the experiences lived by Total Drama Island characters.It's a reality show,hosted by Timmy Turner.Every friday one character will be eliminated by the audience.You can vote in totalodd.blogspot.com.
Characters
Competitors
Mama Cosma
Cupid
Jorgen Von Strangle
Norm, the genie
Blonda
Cosmo
Binky
Anti-Cosmo
Juandíssimo
Wanda
Poof
H.P.
Sanderson
Mark Chang
Teams
The Screaming Goofs:
Jorgen Von Strangle
Cupid
Cosmo
Binky
Juandissimo
Wanda
Poof
The Killer Beasts
Mama Cosma
Norm, the Genie
Blonda
Anti-Cosmo
H.P.
Sanderson
Mark Chang
Eliminations
Starting 01/21/11, every week one of the characters is eliminated.You can vote in totalodd.blogspot.com
Episodes
Ad blocker interference detected!
Wikia is a free-to-use site that makes money from advertising. We have a modified experience for viewers using ad blockers

Wikia is not accessible if you've made further modifications. Remove the custom ad blocker rule(s) and the page will load as expected.